Festival Survival Guide With A Baby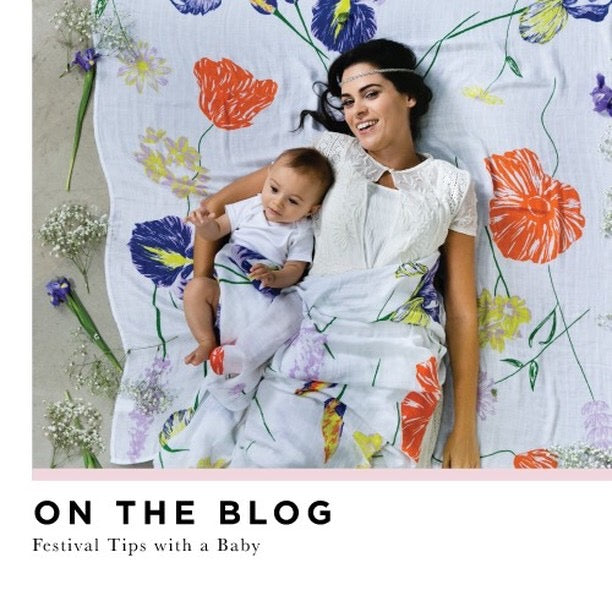 Festival survival guide with a baby
Being a parent can often mean that we set aside our own hobbies and social lives in favour of providing our offspring with our undivided attention, but there's absolutely no reason that just because your baby has arrived that they can't come along for the ride and enjoy the new sights and sounds that summer festivals have to offer.
Here are some top tips from festival loving parents who've become pros at including their little ones in some festival fun.
Stay local
If this is your first festival with baby, then it's a good idea to stay local so that you can pop home if you need to or if your little one feels overwhelmed by the experience.
Travelling hours to get to your destination means that baby can be tired before you've even arrived, so save the further afield festivals until they're a little older.
Grab a large multi-use muslin
If feeding baby in such a busy environment isn't something you're looking forward to, don't feel that you'll have to head off to find a less than appealing baby changing unit to breastfeed your child. Our multi-use muslins are a lightweight and practical festival essential that can give you a degree of privacy without taking up vital space in your baby bag.
Available in a variety of vibrant colours and on-trend prints, our large muslins are also perfect for a quick picnic or playmat if your little one is getting a bit grouchy about being carried around all day or as a stroller cover to keep out the sun during a nap.
Parent and Baby Facilities
As more festivals become aware that they can be a brilliant day out for the family they are starting to add facilities to make the experience much easier for parents and babies. Mama Rules is hosting a baby area at Pub In the Park festival, a premium food and music festival that is growing in popularity across the UK. The baby area provides a comfortable baby changing and feeding area aswel as a welcoming spot to have a relax with baby and other parents before heading back into the crowds. The company Firefly and Cookies Kitchen also provide fun at the festivals for pre school and older children. Do a little research and hopefully you can find a festival near you with some welcoming areas for you as a family.
Embrace convenience
Heading out for a day of family fun can mean having to use some more convenient items that you perhaps wouldn't necessarily use at home. From pre-packed jars orpouches of baby food, bottles of ready-made formula to small packs of wipes for those messy moments, embrace convenience so that you can travel light and enjoy the festival without having to carry a plethora of baby items around with you.
Naptime
Keeping to a routine at a festival can be a little tricky, but one thing you definitely shouldn't miss is naptime.
There are a wide range of baby headphones that cancel out noise and allow your child to get some much-needed rest, so combine a pair of these with your large multi-use muslin to cover their stroller. This will allow baby to get forty winks while you relax and take in the festival atmosphere without the worry of them waking up.