12 Handy Ways How To Use A Muslin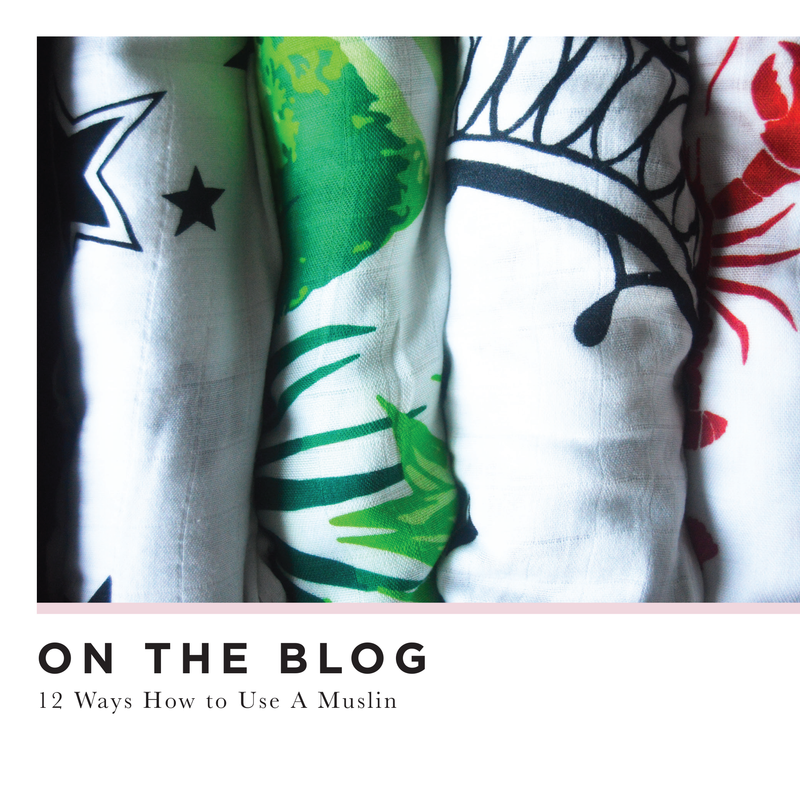 There is a long list of what you need to buy when you are pregnant ahead of your little ones eagerly anticipated arrival. Muslins are always on that list but how do you use a muslin and do you really 'need' them?
The simple answer is yes and you won't want to leave the house without one. As a mum you'll find yourself with a big mama kit of essentials however muslins actually have so many uses meaning that you can actually carry less and save a little money (or spend it on yet another adorable baby outfit instead!). We've listed some of the many handy muslin uses below.
Swaddle blanket
Muslins are lightweight and breathable and so large muslins are ideal to swaddle your baby. Newborn babies are usually swaddled with their arms folded across their chest, as the muslins help them to feel nice and secure like they were in the womb. Take care not to cover your baby's head and face with the muslin. We love cotton and bamboo muslins are our favourite as they are extra silky soft.
Nursing Cover
If you are considering breastfeeding your baby then a large muslin makes an ideal nursing cover. We don't think that any mums should be made to feel that they need to cover up but many prefer to. Tuck one corner of a large muslin into your opposite bra strap, bring the muslin around the back of your neck so it falls around the shoulder of the side of your body that you're feeding on and you have a really effective nursing cover. Mama Rules large muslins actually come with a ribbon that can be threaded through a small loop on the muslin and tied to your bra to make an extra secure cover (*Just be sure to remove the ribbon when swaddling your baby or using it as a blanket.)The lightweight muslin fabric makes it a breathable and comfortable cover for both mum and baby. Bonus: you may never actually need to buy a separate nursing cover especially if you choose a muslin with a stylish print to reflect your style.
Pram / car shade
When the sun is out and your pram doesn't come with a built in shade –do not fear. If you have a large muslin near, you're sorted. Draping a super lightweight and breathable muslin over the  to create extra shade means your baby is protected from the harmful sunny rays and keeps the sun out of their eyes. You must always ensure that there is airflow to your baby at all times by making sure the pram is not fully covered by lifting up one side and regularly check the temperature of your baby as with all pram shades. You can use the Mama Rules extra ribbon feature again to tie your muslin to the handlebars to make an extra secure shade especially in the breeze.
Similarly, the muslin can be used as a car shade. Hook one end around the suit hook or car handle found above a window, to protect your little one from the sun while on the road.
Changing mat and floor cover, picnic blanket and playmat
If you find yourself out and about, large muslins can make a great impromptu floor covering so that you can pop your baby down to be changed or to play, without taking extra mats with you, which is especially handy during festival season.
Summer blanket
I don't know about you, but we struggle to fall asleep without being able to 'climb under the covers' in bed and babies tend to be the same. So, to help your baby sleep like a dream (here's hoping) on a summers day or night, use a large muslin which is a lightweight breathable fabric to tuck them in while they're sleeping in their Moses basket or cot or when lounging in their pram.
Moses basket or carrycot sheet
If you run out of clean Moses basket sheets, (we don't blame you there is a never ending pile of washing!) you need a baby sheet whilst on holiday or you unexpectedly need to change the pram carrycot sheet then a large muslin is a great option. You can even find many stylish muslin prints to enhance your nursery décor.
Sleepyhead Pod Cover
Rather than buying lots of Sleepyhead pod covers, you can keep it clean by covering it with a large muslin. It's much easier to quickly change the muslin and there are lots of muslins with beautiful or fun prints you can choose from to change the look of the pod regularly.
Sarong or scarf for Mum
This is a brilliant mum hack especially for when trying to do your vacation packing as let's face it there is a LOT to take with you when you have little ones and you might not be able to take your extensive wardrobe of varying outfits like you once used to. Mama Rules large muslins have catwalk inspired prints and so can double up as a stylish sarong by the beach or as a lightweight scarf or shawl for the evening for when the sun goes down.
A makeshift baby sling
Sometimes your baby just wants to be close to you and if you don't have a baby sling to hand, a large muslin can be made into a temporary makeshift baby sling.
A distracting toy
Muslins are great for playing peek-a-boo, which when a baby tantrum is imminent, is the best use of a muslin you can get. Throw it over their toys also as another game and see if they can work out where their toys have disappeared to. Watch out though as an older sibling may want to steal it for playing dress up with.
A burp cloth/clothes protector
Muslins can be used to protect your clothing from the surprising amount of mess a little one can make. Just pop one over your shoulder after a feed when burping your baby. Dads (and any visitors) will appreciate this one too.
Cloth nappies
If you've made the choice to put your child in cloth nappies, packing a large muslin (folded in half to make a triangle and kept in place with a nappy wrap) can be a back-up nappy solution for when you're out and about and are in desperate need.
Have you stocked up on muslins yet and added them to your hospital bag? We have a variety of contemporary stylish print silky soft muslins to choose from....