It's All About You Interview With Maya Moda AKA Just Another Mum Blogger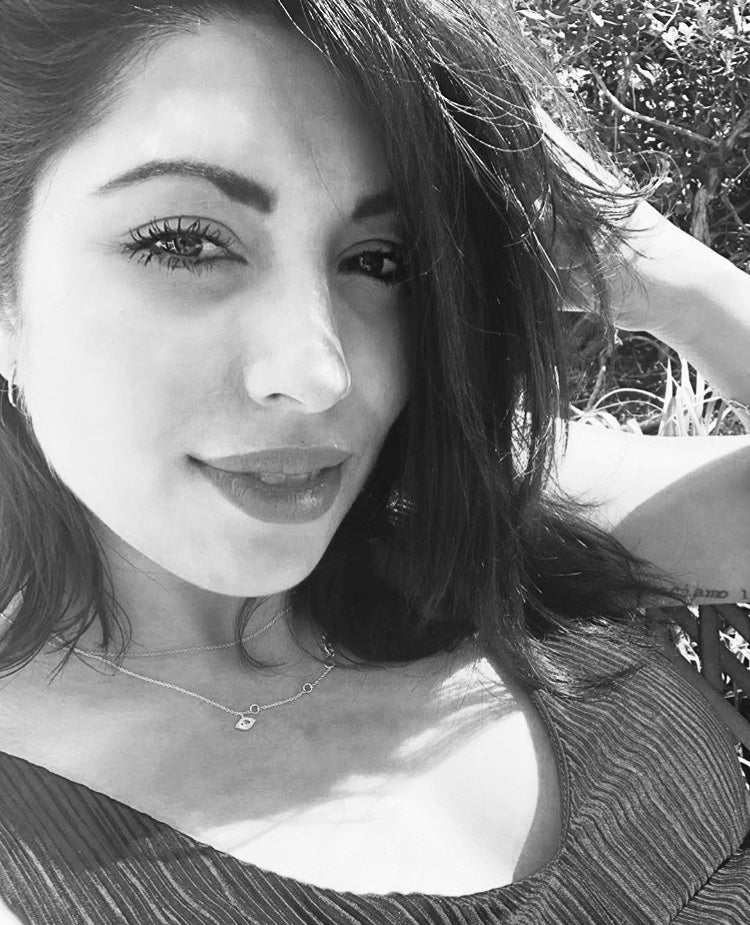 We are celebrating the birth of Maya's second child, Chiara she's simply gorgeous and is a precious new sister to Sonny. Before Maya had Chiara we asked her to complete our It's All About You interview as after having your second baby we knew there would be no time for anything else! We've watched Maya's motherhood and pregnancy journey through Instagram and her Just Another Mum Blogger website and we wish her all the best for the next chapter with her beautiful family. He's what Maya had to say.
My favourite out OUT look:
A little black dress, heels and a long-line blazer  
My favourite in IN look:
PJs all day! 
Knackered mama style tip:
Focus on your eyes with a good concealer, highlighter and Mascara. I use Revlon Colour Stay Concealer, Charlotte Tilburry Hollywood Beauty Light Wand Highlighter and Benefit BADgalBANG Mascara. If they look perky you will feel perkier! If all else fails get yourself some big, bold Sunnies and they will hide those circles.
Palm print or florals?
Florals 
Flamingos or pineapples?
Flamingos 
Cool monochrome or fun vibrant colours?
Vibrant Colours 
Parenting rule you've abandoned:
iPads save lives! Don't feel guilty for using one when you need to! 
Last time you had a full night's sleep (over 7 hours):
Ha! Maybe 3-4 weeks ago?
The first thing you do once the kids hit the sack:
Make a cup of tea and sit down to scroll social media, catch up on emails or just zone out to an episode of whatever series I am watching
If motherhood were a cocktail it would be called:
Knackered not stirred (That's really crap isn't it haha!) 
Has a hangover since having a child ever been worth it?
I wish I could say yes to this question but its defo a no!  
Favourite thing your kid/s says:
He still cant talk to be honest. He says the odd word, but I guess so far what I love is that he calls my partner Papa instead of Dada or Dad. I don't know where he got it from but its mega cute. 
24hrs without the kid/s, what's your plan?
With 5 weeks to go before Bump arrives it would definitely be a Spa Day with my best friend. Lots of chill and relaxtion. Have a massage, get my nails done and sleep! 
Essential item for motherhood survival:
Invest in a good Coffee Machine  
Would you put on make up to go and buy make-up wipes?
Nope. Pre-kid me would definitely have answered yes to this question but I think a mixture of exhaustion and a new found 'fuck-it' attitude has given me the confidence to happily go about without make-up these days.
Most embarrassing motherhood moment:
I forgot my Breastpump at the Mother In Laws and my boobs were killing me as Sonny wouldn't feed as he was fast asleep, so my partner had to drink my milk to relieve the pain!  
Mama super hero power you would choose:
The ability to make my kid eat a varied diet  
What do you wish you'd been told about motherhood beforehand?
Its okay to struggle, you aren't letting anyone down and it does get easier
Three words to describe yourself: 
Friendly, Opinionated and Over-thinker  
Exciting upcoming plans:
The arrival of bump! This time around I am going to take it easy and not try and rush around like a headless chicken. I am going to limit visitors and the pressure I put on myself to get out and about. I am also excited about my Blog and I have some super exciting projects in the pipeline with some cool brands, I cant wait to share! 
Why do Mama's Rule?
Because we are forever putting the needs of others before our own even when we are struggling
Congratulations Maya and welcome Chiara