It's All About You Interview With A Mothers Edit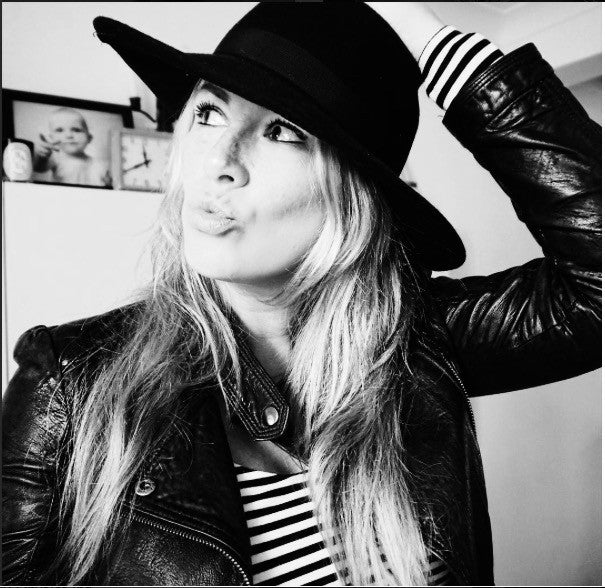 To celebrate the birth of Ashley Wilson's (aka A Mothers Edit) second gorgeous girl Margot two weeks ago, here's her It's All About You Interview. I discovered Ashley through ogling her enviable maternity wardrobe, it's clear she has a background in fashion and still has a real passion for it even after becoming a mum. We caught up with the stunning and stylish blogger Ashley earlier this month.
IT'S ALL ABOUT YOU...
My favourite out OUT look:
Pleather trousers, leopard heels and a grey marl t-shirt - with a red lip
My favourite in IN look:
Giant fluffy dressing gown and nothing underneath!
Knackered mama style tip:
Wear a hat. It covers half your face, you don't need to make an effort with your hair and it gives off an air of confidence even if you're not feeling it. 
Palm print or florals?
Palm print - anything that makes me think of being on holiday is a winner
Flamingos or pineapples?
Flamingos - still fascinate me every time I see one
Parenting rule you've abandoned:
Wait until the babies are asleep before you open the wine! That was abandoned pretty quickly!
Last time you had a full night's sleep (over 7 hours):
Every night at the moment - but my second is due in March so I am fully prepared to going back to no sleep again.... 
The first thing you do once the kids hit the sack:
Stick Smooth FM on and fall onto the sofa.
If motherhood were a cocktail it would be called:
Sweet agony 
Has a hangover since having a child ever been worth it?
Ha ha - yes I think so - but if you can arrange for them to stay over the following night too then all the better
Favourite thing your kid/s says:
Missed you Mummy  
24hrs without the kid/s, what's your plan?
Shopping, maybe a trip to the hairdressers, dinner out with my husband and home with a bottle of wine or two. 
Essential item for motherhood survival:
iPhone!
Would you put on make up to go and buy make-up wipes?
No I am so lazy these days - this is where the hats come into play. 
Most embarrassing motherhood moment:
I was a bridesmaid three weeks after giving birth and my mum kindly took Vivienne for the night so we could stay at the hotel and enjoy ourselves. I hadn't scheduled the breast pumping and drinking wine very well and mid speeches realised I had leaked all over the beautiful gold bridesmaid dress. Not sure the Bride was best pleased. 
Mama super hero power you would choose: 
To be able to get children to do whatever I ask of them. I have a very disobedient two year old daughter!
What do you wish you'd been told about motherhood beforehand?
Nothing is as it seems. 
Three words to describe yourself: 
Loyal, happy, hopeful 
Exciting upcoming plans:
The birth of my second daughter this March! 
Why do Mama's Rule?
Because we have evolved to become more than we once were... to love like never before and give ourselves to another completely selflessly.