It's All About You With Sarah Baily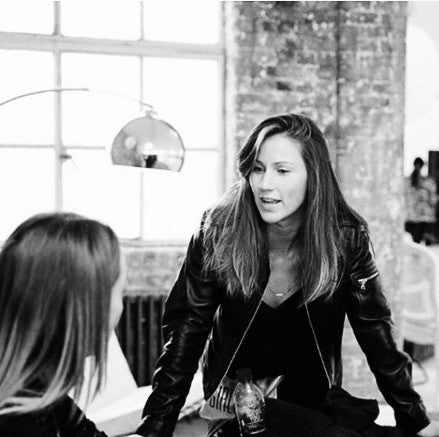 Ultra cool, edgy and vibrant, all ways to describe the awesome brand Baily Bags which specialises in stand out leather bags and jackets all handmade in London. You might think that the super talented founder Sarah Baily would be unapproachable running such a fashion forward successful brand but she was instantly friendly and welcoming from the moment I first met her. Like her slogan Sarah truly does support her local girl gang. Sarah has a sample sale on the 6th & 7th April with bargains even flashing up to buy on @bailybags Instagram stories plus check out her new range of shoppers on www.sarahbaily.com. We wanted to find out more about this business savvy, gorgeous mama.
My favourite out OUT look:
All black everything with mega bright accessories and my fave Mawi leopard cocktail ring 
My favourite in IN look:
I actually can't live with out my slippers these days I'm like an old lady! Proper sheep skin ones - so cosy! and big cosy jumper too
Knackered mama style tip:
Put your gym kit on! It's comfy and makes you feel like you're on it! I just got a really nice set from Gibson Girl sport and it makes me feel instantly motivated when I put it on. Even if I don't make it any where near a gym that day 
Palm print or florals? 
oooh it has to be Palms! 
Flamingos or pineapples?
Flamingos because they are pink! 
Parenting rule you've abandoned: 
I'm rubbish at being disciplined at bedtime we end up chatting and laughing and getting distracted. Also living with an Irish man swearing happens a bit too much in our house, Lily tells us off! 
Last time you had a full night's sleep (over 7 hours): 
Well I'm going to sound soooo smug but I love my sleep and have about 8 hours most of the time! But Lily is 7 now though so night feeds and waking in the night are a thing of the past, its gonna be tough for me if I have another one now - I'm so grumpy when I'm tired! 
The first thing you do once the kids hit the sack:
Wine! Actually that usually happens before bedtime 
If motherhood were a cocktail it would be called:  
WINE TIME
Has a hangover since having a child ever been worth it? 
Yeah they are not easy but when you have been out with the girls, let your hair down got up to mischief, made new mum friends, sung karaoke (usually in the cab on way home), taken loads of photos & videos to laugh at the next day, its all worth it! 
Favourite thing your kid/s says:
I'm in a Mummy Mood, awww its nice to hear this from an independent 7 year old girl 
24hrs without the kid/s, what's your plan?
I love a hotel & spa! Swim, sauna, champagne and white dressing gowns! 
Essential item for motherhood survival:
Good Mum Friends 
Would you put on make up to go and buy make-up wipes?
If it's summertime and I have a tan I can just about get away with it. Winter I need a full face!! 
Most embarrassing motherhood moment: 
I was at the park on my own with when Lily she was a toddler, she fell over and started rolling down the hill. I panicked ran after her let go of the pram I was holding which then rolled down the hill in the other direction crashing into mums and kids on the way! There was a lot of gasps and the park went very quiet, I never went back to that park! 
Mama super hero power you would choose:
Multi tasking!! I'm a mum I'm supposed to be good at it - but I can't do it!! 
What do you wish you'd been told about motherhood beforehand? 
If I'd known about Mothers Meeting in the early days of motherhood I would not have spent so many lonely days in the park/at home. No one tells you it's going to be so lonely! That's why we need our Girl Gang!!
Three words to describe yourself
Visual, conscientious, technophobe 
Exciting up and coming plans: 
Lots of really exciting collaborations!