It's All About You Interview With CoCo Mama Style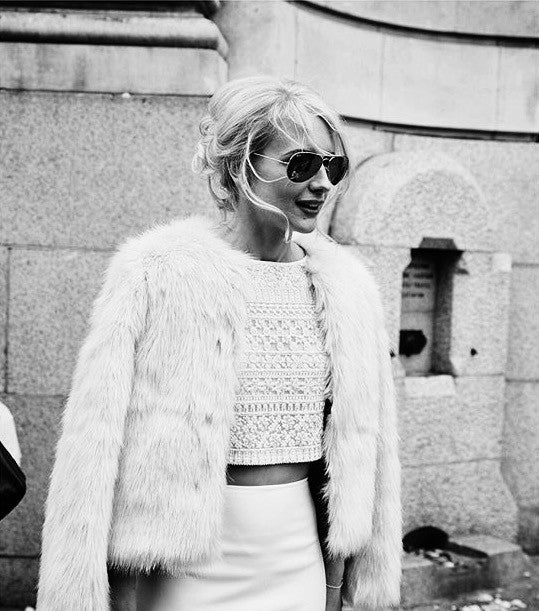 When I first became pregnant and started scouring the web for fashionable pre and post pregnancy clothing CoCo Mama Style (by Helen Canning Ford) was the first blog I found that really focused on style for fashion conscious mums and mums to be. Helen doesn't claim to be the most on trend or coolest mum out there (however I think she looks pretty cool in her wedding photo) but she knew that her style changed after becoming a mum and got stuck in a rut like many of us do and so used her fashion background to change her style so that it worked as part of her new mum role and inspire others in the process. Since then she has won awards for her blog and has collaborated with some big well known brands. Here's Helen's It's All About You interview to get to know her a little more.
My favourite out OUT look:
A fitted dress and sky-high stilettos
My favourite in IN look:
Luxe lounging in lace trim cami and velvet pants.

Knackered mama style tip:
Keep your wardrobe organised (and streamlined) then no matter how tired you are, you will always have easily accessible outfits in an instant.

Palm print or florals?

Florals.

Flamingos or pineapples?
Flamingos to wear, pineapples to eat!

Parenting rule you've abandoned:
Limiting screen time. Just. Can't. Do. It.

Last time you had a full night's sleep (over 7 hours):

Hmm, unbroken sleep has been a while but I do manage to get in the extra hour or so in the mornings as my husband often gets the girls up!

The first thing you do once the kids hit the sack:
Get out my MacBook and work!
If motherhood were a cocktail it would be called:
Tough cookie.
It's hard work but full of sweetness!
Has a hangover since having a child ever been worth it?
Probably not!

Favourite thing your kid/s says:
Check out #stuffCocosays #stuffMimisays for my fave quotes from my daughters but usually when they directly quote me to one another and sound like mini grown-ups!

24hrs without the kid/s, what's your plan?
Wow! Luxury!
Lie in, take a long shower in peace, put on white jeans and inappropriate heels then shop, drink bubbly with a late lunch and stay out late!

Essential item for motherhood survival:
Grandma (my mum) on speed dial! And baby wipes.
Would you put on make up to go and buy make-up wipes?
Totally. I won't even go for a run without something on my face!
Most embarrassing motherhood moment:
Apart from public tantrums, maybe when my eldest shouted "Mummy I can see your boobs!" While changing at swimming!
Mama super hero power you would choose:
To stop time so I could get everything done and give myself more hours in the day!
What do you wish you'd been told about motherhood beforehand?
Don't spend so long thinking about the birth, it's over so quickly and easy compared to actually parenting children!

Three words to describe yourself:
Tired / Mama / Stylist.

Exciting upcoming plans:
More great collaborations with brands, more videos and more essential style inspiration for mamas!

Why do Mamas Rule?
Because without them, none of us would be here!