It's All About You Interview With Frankie Harrison - The BeauBox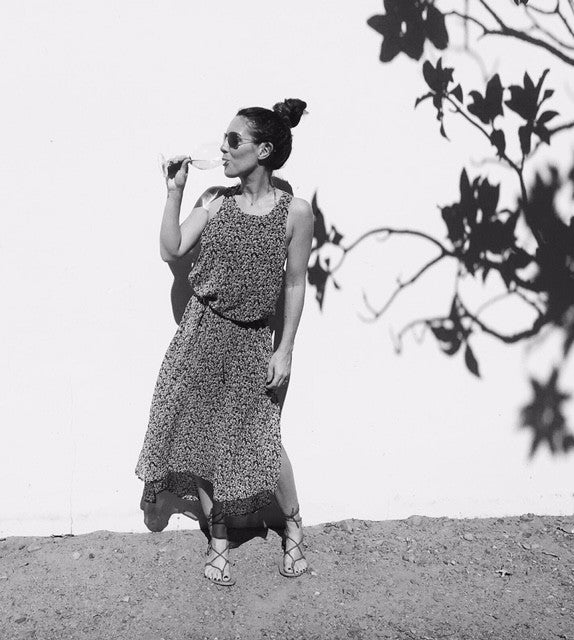 Exciting News. The BeauBox is the most stylish premium brand of gift boxes for mums which contain beautiful products in stunning, chic packaging. Their latest box now features our Mama Rules monochrome pineapple muslin. We are so excited to be working with Frankie and The BeauBox which she successfully launched at the beginning of this year. As you can imagine not only is her brand super cool but so is Frankie herself in every way. To celebrate we asked Frankie to complete the quick fire It's All About You Interview.
My favourite out OUT look:
Well it doesn't happen that often so when it does I like to make an effort! If it's date night then absolutely a dress of some sort and if it's cocktails with the girls leather trousers and some amazing shoes (and a top of course)
My favourite in IN look:
Soft grey lounge pants, tee and hoody…..we do some serious cosy lounging in our house!
Knackered mama style tip:
Red lips and mascara always does the trick
Palm print or florals?
Palm prints
Flamingos or pineapples?
Me and Pineapples have had a long standing love affair so it's got to be them.
Parenting rule you've abandoned:
No ipads… but we probably wouldn't have got through our recent 12 hour flight without it!!
Last time you had a full night's sleep (over 7 hours):
Last night at a spa!!! Grandparents gave us a night off 
The first thing you do once the kids hit the sack:
Log on to The BeauBox and WORK! Or pour myself a glass of wine – depends on the day we've had
If motherhood were a cocktail it would be called:
The rollercoaster
Has a hangover since having a child ever been worth it?
Nope but I just can't say no to a red wine (or gin, champagne, espresso martini's…..)
Favourite thing your kid/s says:
Beau is only 14 months so his vocabulary isn't particularly wide! But it's got to be mama!
24hrs without the kid/s, what's your plan?
I'd go all out and jump on the Eurostar to Paris for some shopping and a very long lunch, drink red wine, consume some cheese , more shopping, cocktails, dinner, a lie in, then maybe more shopping….. This sounds so good I think I may need to book it in!!
Essential item for motherhood survival:
At the moment it's plenty of snacks on me at all times!
Would you put on make up to go and buy make-up wipes?
Hahahaha! Absolutely!
Most embarrassing motherhood moment:
Beau deciding to do the most offensive nappy I had ever seen in the 8 weeks he'd been alive in a mum and baby yoga class. It was EVERYEHERE; on him, on his clothes, on me, on the mat. I spent the entire class dealing with it and I never returned..
Mama super hero power you would choose:
The nappy to change itself please!
What do you wish you'd been told about motherhood beforehand?
I've loved discovering it all for myself and whilst I was given plenty of advice beforehand this is all part of the journey and I don't think anyone can really truly describe it!
However a head's up about the crazy waiting lists for a good nursery may have been helpful!!! 
Three words to describe yourself: 
Fun, loyal, motivated
Exciting upcoming plans:
A spring/summer collection of boxes and some exciting new collaborations! Watch this space!! 
Why do Mama's Rule?
Because we grow humans