Hospital Bag Essentials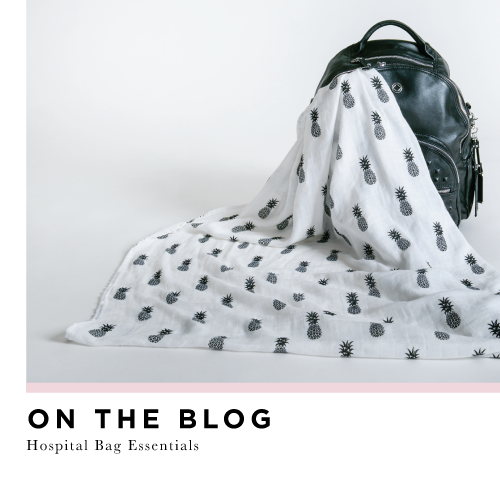 The moment you pack your hospital bag reality hits home that those kicks you're feeling will soon be a little person wearing the tiny sweet clothes that you are packing. It's normal to feel anxious about what to pack for a new adventure you've not embarked on before especially when you want to get it right for you and your precious newborn, so we've listed what we recommend you take with you so that you can feel more prepared and confident, ready for the big day.
What Should I Pack In My Hospital Bag For Baby?
Baby clothes 
4 Baby vests & 5 - 6 sleepsuits 
Most people will take newborn size clothing but maybe if you have been informed that your baby is measuring as smaller or bigger than the average size baby then you could pack at least one other size option. Both of my babies were induced at 37 weeks and were both just over 5lbs at birth. Prem baby clothes fitted them perfectly. Other babies may measure up as much bigger and so you may want to have one 0-3 vest and sleepsuit as an option just in case.
A comfortable onesie is best. You'll have plenty of time to dress your baby up in whatever your heart desires but you'll appreciate having something cute, soft and simple to dress your delicate newborn in for now.
Personalised baby sleep suit by Snappy Crocodile Designs
This is dependant on the weather when you leave the hospital - remember these should be removed when putting your baby into a carseat so that your baby is held in place securely.
These help to avoid your baby scratching themselves. Some sleepsuits have them built in already.
The NHS recommend a wool or cotton hat for going outdoors in winter and a sun hat when going outdoors in Summer. These should be removed once indoors.
Essentials
Take enough with you for a couple of days. Newborns can go through up to 12 nappies in a day.
For cleaning your babies new sensitive skin. Wetwipes aren't recommended until 2-4 weeks. 
Large muslins can be useful for many reasons: swaddling your baby to make them feel safe and secure, covering up when breastfeeding if this feels better for you, and covering yours or guests clothes when burping baby. Best of all, muslins squash down really well so they shouldn't take up too much space.
https://mamarules.co.uk/collections/baby-muslin-blankets/products/paradise-print-baby-muslin-blanket 
Even if you plan to breastfeed it's a good idea to have a sterilised bottle and some baby formula with you as a back up.
A breathable baby blanket to keep baby warm 
Don't forget the car seat
You can get this professionally fitted in advance to ensure that it is put in securely

What Should I Pack In My Hospital Bag For Me?
You might have put all your prep attention on your little one's outfits, but don't forget that you'll need to be comfy during your time in hospital too.
Clothing
Nightshirts with comfortable, breastfeeding access.
Comfort is key.
Pack one nightshirt that you are happy to not wear again that you plan to give birth in.
You don't know how long you will be staying in hospital for so pack a couple of comfortable nightshirts that open out at the front for nursing access. For a luxury option try Bumpkyn nightdresses. A night dress that unbuttons like this at the top is a great option.
Especially handy as you may be encouraged to walk within the hospital to get baby moving. I did a lot of hospital corridors when induced.
Slip on backless slippers
The easier to slip your feet into the better.
These need to be comfortable to avoid blocked ducts. It's best to get measured around 37 weeks pregnant by a professional (most department stores offer this service for free) as your breasts are likely to increase in size throughout pregnancy and again when your milk comes in after having the baby. The professional can ensure that the bra will be comfortable and allow for the correct amount of extra room required. 
Soft, big and comfortable, you'll thank us on this one later
A comfortable outfit for you 
I recommend packing a comfortable maternity outfit (which has the option of nursing access) to leave in as you will likely still be wearing maternity clothes for at least 2 - 3 weeks after birth. Something like a long dark maternity top and black maternity leggings is ideal. A long top will cover your maternity pad and remaining bump. Soft leggings will rub less on any stitches or sensitive areas. 
Mama Rules Mia Maternity and Nursing Top in black, blush and rose gold is a soft luxury option https://mamarules.co.uk/collections/tops/products/mia-top-2
Essentials
There are disposable and washable options available.
Maternity pads are much thicker than sanitary pads which are necessary after birth. Boots sell them in packs of 10 (shown below). I recommend taking a pack with you.
Lip balm, small handheld fan, hairband/hair clips, hair brush
Lip balm - heavy breathing, gas and air and hospital air can dry out your lips 
Small handheld fan - to keep you cool
hairband/hair clips, hair brush - to keep hair out of your face
All handy small items to have in your bag that your birthing partner can use to make you feel more comfortable.
Include travel size basics (shampoo, conditioner, shower gel, toothpaste, deodorant) You'll want to shower after birth and you may be in for a few days so shower using refreshing products may help you feel a little more like yourself. Don't forget a Towel and your Toothbrush 
Maybe not an essential to many, however if you feel happier wearing make up like I do then add in a few of your key products. I felt much more like myself after a little mascara before seeing visitors who love to take lots of photos. This might be the last thing on many new mums minds but do whatever makes you feel happiest.
What Should Your Birth Partner Pack?
To keep close loved ones updated and for those first important photos.
A tablet with a few downloaded movies or a book can help time pass more quickly if it's not a short labour. Music can help to calm mum to be during labour so having a labour playlist ready is a thoughtful idea. Don't forget the headphones
Some much needed snacks for you and the mum to be will keep you both going, including an energy drink for you both. Taking some food with you will reduce the need for you to keep popping out of the room for when you are needed most.
Change of clothes, comfortable shoes and deodorant
A change of clothes and some deodorant can help you feel a little more refreshed if you are in hospital for more than a day.
Extra bag at home
Not a necessity but it's a good idea to prepare a bag that has extra clothing for you and baby in, as well as extra nappies, maternity and breast pads in etc. It means that if you do stay longer in hospital then your partner or a trusted friend or family member can grab this extra bag easily and bring it to the hospital. This stops you trying to direct someone to where everything is that you need. If you don't use it in hospital it's an easy go to bag with things you'll need in for as soon as you get home. Just make sure it's left in an obvious place.