It's All About You Interview With Amanda Woodward Brown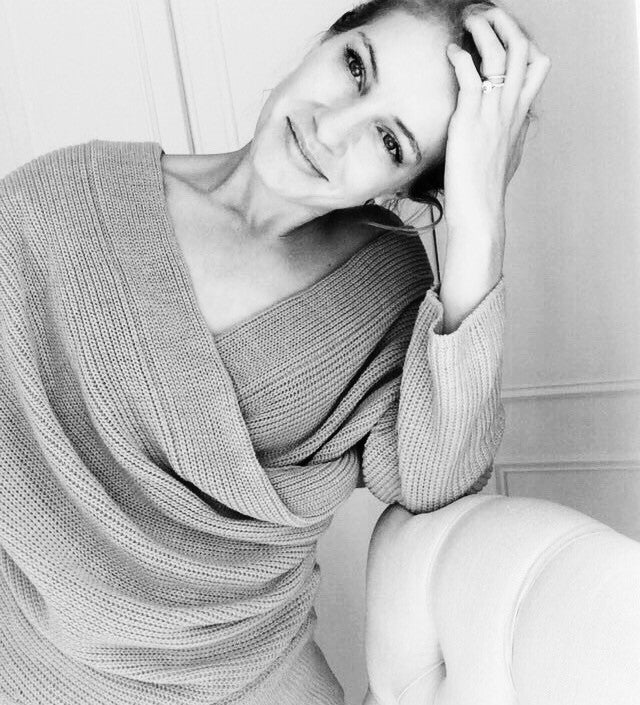 If you require advice on maternity fashion and style throughout motherhood there is no one with better credentials than Amanda Woodward Brown. Amanda was the Marie Claire Fashion Editor in Sydney and then took up a role at Net a Porter when she moved to London before becoming editor of chic designer maternity clothing website Nine In The Mirror. This elegant mother of two was the perfect speaker at our GOT THIS Style event with The BeauBox in June giving her professional advice on how to create a great capsule wardrobe. We wanted to find out more about this beautiful mama herself in our 'It's All About You' Interview.
My favourite out OUT look:
A printed or pleated midi dress or jumpsuit with earrings and heels - always heels!
My favourite in IN look:
An oversized cashmere jumper and boyfriend jeans.
Knackered mama style tip: 
Add a statement accessory – it requires minimum effort and will lend even the simplest outfit a glamorous finish. I love a felt fedora in pale grey or black in winter, and earrings or sunglasses in summer. Failing that, a classic trench. I invested in a Burberry coat a few years ago and it is my fail-safe way to look presentable, even for an early morning dash to the supermarket for milk, when I am still wearing my pyjama top underneath.
Palm print or florals?
Florals - or more specifically Liberty print - I am a little bit obsessed. The girls' wardrobes are 99% Liberty-print pieces.
Flamingos or pineapples?
Pineapples
Parenting rule you've abandoned:
Too many to list! Apart from manners, I will always be strict about good manners.
Last time you had a full night's sleep (over 7 hours):
I actually don't remember?
The first thing you do once the kids hit the sack:
Pour a glass of wine, then have dinner with my husband.  
 If motherhood were a cocktail it would be called:
 Give me strength.
Has a hangover since having a child ever been worth it?
Definitely! But I can never figure out why, the later you go to bed, the earlier your children wake up. Why?! The last time I got in late, my eldest daughter woke up at 4am to tell me there was a tiger in her bed. I had gone to bed at 2am.
Favourite thing your kid/s says:
There is nothing sweeter than 'Mummy, I love you'
24hrs without the kid/s, what's your plan?
First, brunch! Before we had children, my husband and I used to go out for a late breakfast every weekend. But when you have been awake since 5am, eating breakfast at 11am suddenly loses its appeal. So a lie-in, followed by brunch at The Wolseley. Then I would drag my husband to an art exhibition, before a wander through Liberty and dinner at one of our old favourites like Polpo.    
Essential item for motherhood survival:
Wipes for the girls, wine for me.
Would you put on make up to go and buy make-up wipes?
No, I am happiest without makeup, though I won't ever go outside without applying SPF. I'm Australian and old habits die hard.
Most embarrassing motherhood moment:
Violet having a lie-down on the floor tantrum in the middle of a café in Kew Gardens. It was half-term and packed with people. To top it off, I accidentally ran a wheel of the pram over her hand while trying to manoeuvre it out of the way and she screeched at the top of her lungs 'You hurt me Mummy, you HUUURRRRTTT me!'. I wanted to die.
Mama super hero power you would choose:
To freeze time. There are not enough hours in the day.  
What do you wish you'd been told about motherhood beforehand?
That you can have it all, but not all at once. With my family in Australia and my husband's parents living hours away from London, we don't really have anyone we can easily call on for help. I have learnt the hard way that when you have two small children whose needs come first, some things have to wait. Perfection is overrated.
Three words to describe yourself: 
Optimistic, loyal, creative.
Exciting upcoming plans:
I am off to Rome for a long weekend in September with my husband for our friends' wedding. It is the first time we have had a holiday away, just the two of us, since we had children. I know I will miss the girls terribly but I am also so excited to get dressed up, drink cocktails and eat copious amounts of pasta and gelato. Our last holiday before we had Violet was in Rome, so it will be like skipping back in time.
Why do Mama's Rule?
Because there is nothing more powerful than the love you have for your child. It makes you discover an inner strength you never knew you had. And because mums are always right!