It's All About You Interview With Erica Davies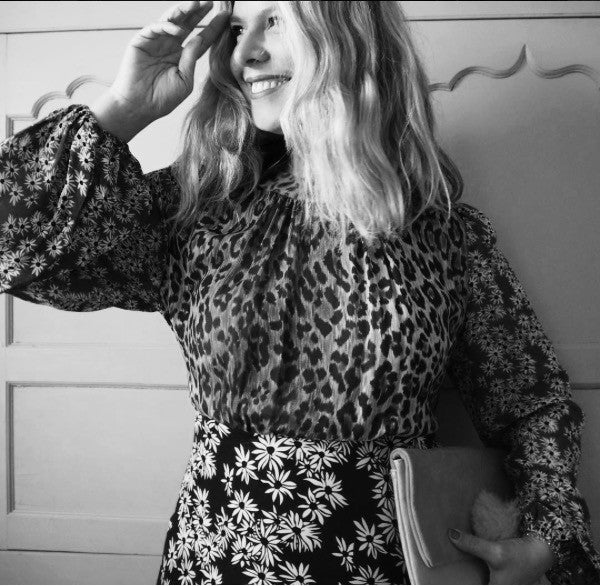 The stylish Erica Davies knows her stuff. She is a fashion journalist, brand consultant and stylist with fifteen years experience in the industry as a fashion director for national newspapers and magazines such as Look Magazine and The Sun.
The mum of two wanted to keep her creativity alive whilst on maternity leave and so  started the stunning site The Edited based on her take on style whether it's fashion or home decor. Her success juggling motherhood and an accomplished career in what she loves as well as her strong sense of contemporary style is an inspiration to many especially mums like myself. As a fan of Erica's work I was intrigued to find out more about her. Here's Erica's 'It's All About You Interview'. For the full interview go to the link in bio.
My favourite out OUT look:
Always a dress. I find dresses the ultimate in stylish ease. Whack it on, add earrings, heels and a red lipstick - done!
My favourite in IN look:
A cashmere boyfriend v neck (I own them in so many colours!) and black jersey lounge pants!
Knackered mama style tip:
Red lipstick always detracts from tired eyes. And I've recently discovered a cooling eye gel from Estée Lauder. Those things and taking five out for yourself every now and then.
Palm print or florals?
Oh man, that's tough! Florals.
Flamingos or pineapples?
Pineapples!
Parenting rule you've abandoned:
That my kids will never watch TV!
Last time you had a full night's sleep (over 7 hours):
Mine are pretty good actually so that happens quite regularly. I still get a little visitor or two first thing in the morning though!
The first thing you do once the kids hit the sack:
Start making dinner, light a candle, check Instagram! 
If motherhood were a cocktail it would be called:
The Have You Brushed Your Teeth? 
Has a hangover since having a child ever been worth it?
Oh my God, never! But it's tough because sometimes you need the wine!
Favourite thing your kid/s says:
They're so chatty now and it's amazing to see how their minds work! My daughter started telling me about awful 'square words' she heard from someone older at school the other day! While my son has decided he's going to be in a band called The Blackbirdz, with a 'z'!
24hrs without the kid/s, what's your plan?
Lie in, papers in bed, brunch out somewhere, film in the afternoon, drinks, dinner, home. No babysitter worry!
Essential item for motherhood survival:
Wet wipes and red lipstick!
Would you put on make up to go and buy make-up wipes?
Absolutely not. I love days without make up! (And I wouldn't use make up wipes! Always cleanse and use a flannel!)
Most embarrassing motherhood moment:
The on-the-floor tantrum my daughter had outside Mothercare for absolutely no reason that lasted ages.
Mama super hero power you would choose:
To be able to protect them always.
What do you wish you'd been told about motherhood beforehand?
That you might not feel 'it' instantly, but that you fall in love with your children and it's amazing.
Three words to describe yourself: 
Talks too much
Exciting upcoming plans:
We have 24 hours without the kids and I'll be doing all described above! 
Why do Mama's Rule?
They wear many hats, juggle a million plates, make sure the house runs to plan, work and still make sure there's time for cuddles.