It's All About You Interview With Erna Leon - Mercer7 Founder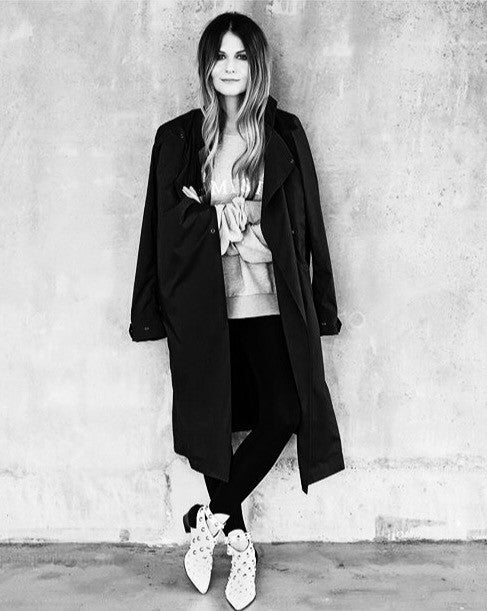 A huge congratulations to the Brilliant Erna Leon for her official launch of MERCER7, the ultimate edit for effortless style. Erna has made online shopping easier for those of us who don't have the time to search the internet for the perfect items. She has created the most stunning capsule wardrobe of timeless pieces for a seamless effortless shopping experience. Erna a fashion designer once based in New York now brings her expertise and minimalist style with a rock n roll edge to London where she raises her beautiful children. To celebrate the launch here is Erna's It's All About You Interview.
My favourite out OUT look: 
I've got a few go-to pieces. An open back dress if I'm going out OUT, a black jumpsuit or leather leggings styled with a silk shirt and a pair of heels.
My favourite in IN look:
When I'm hanging out at home with my kids, I normally wear a pair of boyfriend jeans with one of my favourite sweatshirts. @selfishmother @scampanddude and @adidas ones are on rotation at the moment. Comfort is everything.
Knackered mama style tip:
Coffee and makeup.
Palm print or florals?
If I have to choose a print, it would be a leopard or a snake skin one!
Flamingos or pineapples?
Pineapples
Parenting rule you've abandoned:  
This might sound bad but I've never really set any rules that I knew were unachievable to begin with. I'm just winging it most of the time :) 
Last time you had a full night's sleep (over 7 hours):
Three weeks ago my husband and I were away for the weekend for our friend's wedding, so I had 10 hours of sleep at the hotel which was amazing and a rare treat.
The first thing you do once the kids hit the sack: 
I check all my social media and reply to emails.
If motherhood were a cocktail it would be called:
"24/7" or "Gin & Tantrums"
Has a hangover since having a child ever been worth it?
Never
Favourite thing your kid/s says:
I love you. And different stories that they come up with before bedtime, about dinosaurs and the dragon mountain. Their imagination always blows my mind.
24hrs without the kid/s, what's your plan?
Wake up when I please, breakfast in bed, brunch with friends that involves bellinis, shopping, spa and a date night with my husband. 
Essential item for motherhood survival:
I wouldn't have done it without my family, friends and mama network and of course Snacks, Netflix and baby wipes.
Would you put on make up to go and buy make-up wipes?
Yes, everytime. I don't leave the house without at least a concealer on to hide my tired eyes.
Most embarrassing motherhood moment:
I'm sure that's yet to come... but tantrums in public are never easy to deal with, especially if both of them are in a bit of a funk at the same time!
Mama super hero power you would choose:
I'd love to have healing superpowers whenever my kids are poorly and I feel helpless. Being able to keep them safe and happy forever would be the ultimate superpower. 
What do you wish you'd been told about motherhood beforehand? 
How selfless you become, overprotective and paranoid at times. And that there is a whole new mama world out there; I wish I'd known about @mothersmeetings when I was pregnant for the first time. I discovered it only couple of years ago and since then I have met an incredible group of likeminded women who I now call friends. It was really a game changer for me and I wish I knew about it sooner. Having a strong support network is everything.
Three words to describe yourself: 
Sincere. Dedicated. Creative.
Exciting upcoming plans:
Looking forward to MERCER7 launch party, and also can't wait to share our latest fashion film featuring DJ @ZaraMartin and musician @WhinnieWilliams. We filmed it all at @PushPRLondon in the Arts Building and John Jones Studios. I worked with an amazing team of creatives: @SimonWisbey was the photographer, makeup and hair was done by Tahira Herold (@beautybytahira) and I had two videographers on board - Tara Darby (@taradara) and Sian Davis.(@licksocial)
Oh and family holiday in July, we are off to Portugal this summer and I can't wait for some sunshine!