It's All About You Interview With The Chic Series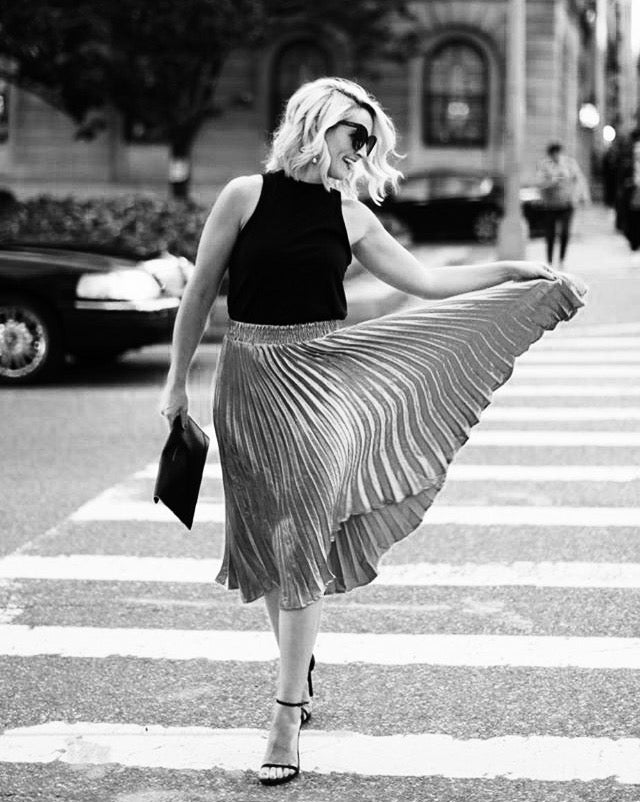 Kate writes the beautiful blog The Chic Series and is a proud mother to her two girls whilst living life in style in New York. Kate has previous experience in the fashion industry including as a buyer for Ralph Lauren and combines this with her new mum status to provide style tips to inspire other moms through her blog. We're excited to share with you our first American blogger to complete our quick fire interview to find out more about what makes Kate tick.
My favourite evening out look:
A jumpsuit, a bold lip and heels.  Simple and always chic.
My favourite staying in look:
Joggers and a striped tee.  Athleisure is my jam.
Tired mama style tip:
You mean me everyday. Three simple items: CC Cream, mascara and a bold lip.  When all else fails big sunglasses (Jackie O style) and lipgloss. No one needs to know what you are hiding under there. 
Palm print or florals?
Oh that's tough.  I'm not much of a print person so I would have to go with the more traditional florals. 
Flamingos or pineapples?
Pineapples. 
Parenting rule you've thrown out the window
Looking like I have got it all together.  Because I don't and I no longer care what others think of me.  Making sure my kids are happy is number one.  If it means an Elsa costume to the grocery store than so be it.
Last time you had a full night's sleep (over 7 hours):
Hahahaha I honestly can't remember.  I think it's genetic because my fathers side of the family sleeps very little.  I'm up around 4:15 everyday and work after my kids go to sleep so I rarely get 6 hours of sleep. Once a week I try and recharge by getting 8 hours but it rarely happens.
The first thing you do once the kids hit the hay:
Open up my laptop and answer emails. 
If motherhood were a cocktail it would be called:
Hmm I'm not sure but I know it would need to be strong. 
Has a hangover since having a child ever been worth it?
Absolutely not not even once.  
Favorite thing your kid/s says:
I love you mommy and can we hug and cuddle.
24hrs without the kid/s, what's your plan?
I'm taking care of me. Exercising and doing two classes back to back.  Highlights, manicures, and reading a book. Then going to bed and finally getting that peaceful 8 hours of sleep. 
Essential item for motherhood you can't live without:
Coffee.  I look forward to it everyday and afternoon.
Would you put on make up to go and buy make-up wipes?
No I very rarely wear makeup.
Most embarrassing motherhood moment:
Our second daughter was gaining weight so I had to breastfeed in front a team of pediatricians.  She screamed the whole time and milk sprayed everywhere.  Oh did I mention her pediatrician is young and attractive?  It was embarrassing to say the least.
Mama super hero power you would choose:
We are super heroes right?  Everyday I'm in awe of everything we do as moms.  We are strong and soft at the same time a balance that men can't always achieve.
What do you wish you'd been told about motherhood beforehand?
It's hard and lonely in the beginning. You think you are going to have this baby and instantly love it. I remember feeling extremely overwhelmed and exhausted.  Find your mom network before you have the baby because that community is a necessity. 
Three words to describe yourself: 
Strong, happy and energetic
Exciting upcoming plans:
Lots of family time over the next couple of months and that makes me extremely happy. 
Why do Mama's Rule?
We are the backbone of the family.  Each and everyday we carry so much and whether we work or stay at home the family relies on us.  Plus, like I mentioned earlier we have the ability to wipe away the tears and then make them feel invincible all over again.